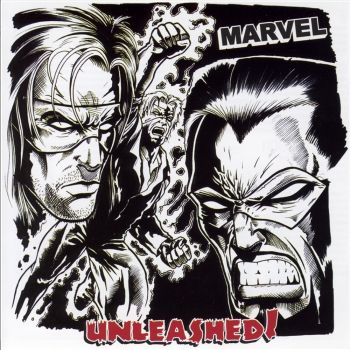 MÄRVEL - Unleashed
Released 2006-02-14
Tracks: If I Only Could Be Sure // Bum Like You // Livin' On A Prayer // Nowhere To Run // Come In Out Of The Rain // Amsterdam

Produced by Jörgen Wärnström and Märvel. Recorded and mixed by Jörgen Wärnström at Soulmine Studios in Linköping.

Cover art by Håkan Åkerman.
From the press release:
Marvel vet hur man unnar sig lite lyx. De är tre till antalet och heter förstås Vocalo, Animalizer och The Ambassador. De har egna nycklar till sitt högkvarter i Brooklyn, New York och därifrån kämpar de mot organiserad brottslighet över hela världen.
Bakom den hårdrockande powertrion gömmer sig tre medelålders kvinnor från Stockholmsförorten Fittja. Tina (sång), Lina (bas) och Rita (trummor) träffades på studiecirkeln Mobilär och snart hade de en fullt utrustad replokal med madrasser och allt. 3 år senare har de så en handfull släpp ("Marvellous", New York Power Hitters, 2002; "Heroine Tracks", New York Power Hitters/Black Juju/Evergreen Terrace, 2003; "Bedlam at the Embassy", Black Juju, 2004; "Five Smell City", Black Juju, 2005) på sitt samvete varav den senaste är albumet "Five Smell City" där riksradiohits såsom "Now I Believe It", "Five Smell City", "Goddess On the Loose" och "Flame On" hör hemma.
Musikorkestern Marvel har nu spelat in en skiva med tolkningar av kända låtar.
1) Så länge skutan kan gå – Evert Taube
2) Piccadilly Circus – Pernilla Walhgren
3) Giddy Up A Ding Dong – Lars Holm
4) Fuck Like A Beast – W.A.S.P
5) Money For Nothing – Dire Straits
6) Jag hör hur dom ligger med varandra i våningen ovanför – Kjell Höglund
Skivbolagsdirektör P. Gunnarsson minns tillkomsten av skivan så här:
"The story of this cover ep began as many other in the history of rock music. We were drunk. Enjoying the hospitality of a local run down rock bar, where I am certain they spike the beer, because we always manage to crawl out of that place dead drunk. "You must do a cover record" I slurred enthusiastically, "and you must play 'Money For Nothing' by Dire Straits". The Marvel boys didn't hesitate, after all I was the one paying the beer, and soon suggestions for suitable songs were flying across the table. Marvel jumped to the task determined to show the world that great songs can be made even greater. And as you soon will find out, they were correct."
"Marvel – Unleashed" är en färgsprakande fest av distade basarior, blixtrande gitarrsolon och underskinnslösa Peter Criss-pukor. Marvel tolkar kärleksfullt 6 låtar från vidt skilda tider och genrer. Vi hoppas resultatet blir en svart dödspil rakt in i hjärtat på dom som spelar falsk metall.
Check out what the CRITICS have to say about "Unleashed":
OX Fanzine, 6/10 (DE)
No Brains Zine (SE)
013 Interview (SE)
Buy the album:
Bandcamp
Freighttrain