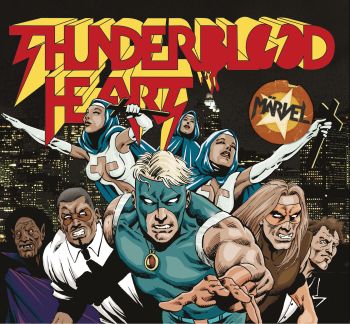 MÄRVEL - Thunderblood Heart
Released 2007-10-29
Tracks: Intro // Fringe Of Comfort // I Wanna Know You (Just A Little Bit Better) // Thunderblood Heart // So Good Together // Girl, Where's My Amulet?! // Code Of The Road // Cagney Sans Lacey (The City Is Burning) // Willful Non Participation // Mind Over Matter // Musta Fresta!

Produced by Jörgen Wärnström and Märvel. Recorded and mixed by Jörgen Wärnström at Soulmine Studios in Linköping.

Cover art by Mats Engesten.
From the press release:
Märvel is a powertrio from Linköping, Sweden: John Steen, Ulrik Bostedt and Tony Samuelsson. The band was formed during the guy's highschool year in Colorado, USA (playing rock n roll was simply more entertaining than studying). The music is defined as high energy rock n roll.
Thunderblood Heart is Märvels second full length cd, but they are also responsible for a few ep:s. All singles released by the band so far made it to the swedish radio playlists. The video for "I Wanna Know You (a little bit better)", has had pretty good rotation on MTV. The video was recorded with the lunatics from GBG Wrestling during a sweaty weekend in Gothenburg. Half the budget was spent on gas, pizza and beer. The other half on paying a false fire emergency call response.
Märvel are also the three superheroes Vocalo, Animalizer and The Ambassador. Together they fight crime all over the world. Thunderblood Heart is also the name of a supervillan (or superhero?) with an electric eel stuck in his heart. He breathes under water, communicates with fish and fires electrical blasts with his hands. The full story about him can be read in the comic book that comes with the cd.
A crazy german guy will release Thunderblood Heart on vinyl. On the records he will engrave a sentance from Märvel's favourite book on each side, on each record... by hand. If you buy all the copies of the record and read the sentances in the right order, you can take of the full story of the book. The rest of you will get a little summary right here:
The cromagnon-girl Ayla looses both her parents in an earthquake and is taken in by a group of neanderthals. She is raped, gives birth to a bastard and gets kicked out of the clan. After that she wanders around for a bit and domesticises a horse and a cave-lion.
On stage Märvel is a masked powertrio consisting of "His Royal Highness", The Aviator and The Vicar. Sometimes the Aviator is switched out for the bicylist Speedo aka Speed-King aka The Lance. Märvel has also been known to perform as Mario, Luigi and Princess Peach, three wise men or as Frodo Baggins, Sam Gamgi and their dentist Aurugol.
Check out what the CRITICS have to say about "Thunderblood Heart":
Groove (SE)
Zero Magazine, 8/10 (SE)
Corren, 4/5 (SE)
OX Fanzine, 7/10 (DE)
OX Fanzine #2 (DE)
Aural Innovations ()
RockTimes ()
Metal.de, 6/10 ()
Metalrage, 82/100 (NL)
Buy the album:
Bandcamp
Freighttrain