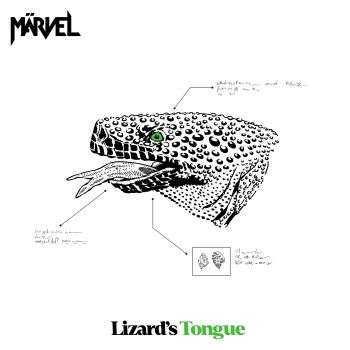 MÄRVEL - Lizard's Tongue
Released 2021-12-03
Tracks: Lizard's Tongue

Produced and recorded by MÄRVEL at studio Solskensfabriken, mixed by Robert "Humbucker" Pehrsson and mastered by Magnus Lindberg. Cover art by Mats Engesten.
From the press release:
Swedish garage rock trio Märvel turns it down a notch on their new single and music video! "Lizard's Tongue" is a laid-back and classic-sounding rock track, featuring Märvel's signature mixture of strong vocals and memorable melodies. It also features a Black Sabbath reference.
The band comments:
"'Lizard's Tongue' is about going through some hard shit and in the end trying to maintain a positive outlook on life. It's about finding your way out of a really dark hole. The outro paraphrases "Behind the Wall of Sleep" by Black Sabbath, and pays homage to Bill Ward, one of the most soulful rock 'n' roll drummers around."
"Lizard's Tongue" is the third single leading up to Märvel's ninth album 'Graces Came With Malice'. The new album will be released on The Sign Records in 2022 to celebrate the band's 20-year anniversary. "Lizard's Tongue" is out now and accompanied by a music video.
Check out what the CRITICS have to say about "Lizard's Tongue":
Brutal Planet (SE)
Enigma Online (US)
Metal Maidens (UK)
Buy the album:
Bandcamp
Freighttrain