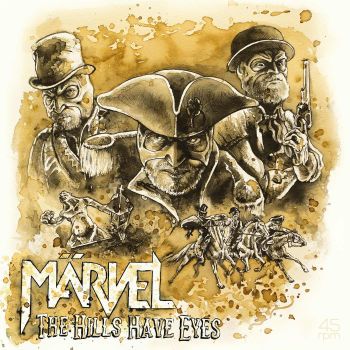 MÄRVEL - The Hills Have Eyes
Released 2015-09-18
Tracks: Back In The Saddle // One Shining Moment // The Hills Have Eyes // Goodbye Shalom // L.O.V.E. Machine // Bring It On

Produced by Fred Estby and Märvel. Recorded, mixed and mastered by Fred Estby at Gutterview Recorders.

Cover art by Anu Bring.
From the press release:
To follow up their critically acclaimed album from last year, Hadal Zone Express, Märvel teamed up with legendary engineer and producer Fred Estby, in his Gutterview Recorders studio. The collaboration was an instant success, and the result is a powerful album, "The Hills Have Eyes" that will be released worldwide September 18:th 2015, digitally and as a 12" gatefold vinyl.
First out of the stable was the single and video for the title track "The Hills Have Eyes", a perfect storm of soulful harmonies, pop chords and seventies grooves that was released May 29th 2015. The video for the single is slashed out of 22 old western movies, and the problem was to find "... a horse that whistles the correct notes". With this instant hit, Märvel stuns their fans by revealing a new musical side without forgetting their energetic rock roots. While in the studio, label man extravaganza Björn "Papa Bear" Rallare filmed a trailer showing the band and Mr Estby hard at work recording a cover of W.A.S.P.'s "L.O.V.E. Machine". This album video teaser was released the 15th of July and featured a tasteful bite of the libidinous song. This classic 80's sex anthem gets the unique Märvel branding treatment and the band handles it like it was always their first born baby. Or to (kinda…) cite Fred Estby, it's the "greatest thing since sliced bread". The powerful cover has been selected, by a scientificly chosen test group of swedish military women, as the second single because it "twisted their knobs". L.O.V.E. Machine is accompanied by an official video and will be released at the end of august.
"By this album, we're stretching out in all directions know to man", singer and guitarist King says. "I can't say exactly down to the millimeter how far we're stretching but it contains both the most powerful stuff and the most mellow stuff we've attempted to create in the name of rock 'n' roll". But evil doers and children of Satan should not worry – "There are no disco songs on this black wax", says bassist and aristocrat Burgher.
Drummer Vicar adds: "Wait til you see the cover! We've got a finnish devil worshipper drawing in goat blood… or was it a dog loving metalhead using coffe?"
There is no question this world needs rock and roll to survive. And Märvel has got it. Silly much of it in fact.
Check out what the CRITICS have to say about "The Hills Have Eyes":
Neckbreaker, 8.5/10 (DE)
FFM-ROCK, 9/10 (DE)
Corren, 4/5 (SE)
Access Rock, 9/10 (SE)
Metal DE, 6/10 (DE)
Games, Brrraaains & A Head-Banging Life, 7/10 (UK)
Markus Heavy Music Blog, 8/10 (SE)
Metal Temple, 9/10 (US)
Moshville Times (US)
Riff Relevant (US)
Sentinel Daily (AU)
Raw Ramp (GB)
Buy the album:
Bandcamp
Freight Train