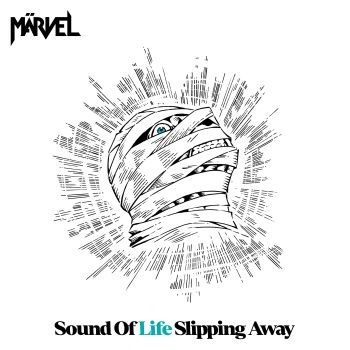 MÄRVEL - Sound Of Life Slipping Away
Released 2022-01-28
Tracks: Sound Of Life Slipping Away

Produced and recorded by MÄRVEL at studio Solskensfabriken, mixed by Robert "Humbucker" Pehrsson and mastered by Magnus Lindberg. Cover art by Mats Engesten.
From the press release:
Life is better with a mask, that is what Märvel already made part of their DNA many years ago, although in a different context than what we go through today. The Swedish trio made mask and outfit part of the band's identity and what is even more important is the sound of their music.
Hard rocking music with a great sense is what the guys offer since many years and it will be their ninth album 'Grace Came With Malice' which will continue the energetic trip though the world of riffs. A song, taken from the album is 'Sound of Life Slipping Away'.
The band comments: " Sound of Life Slipping Away comes out of a place of frustration and anger. The lyrics are sort of dreamlike and paints a rather confusing story that might not make much sense to some. But it's about trying to communicate a feeling rather than telling a straight story. Together with the energetic up-beat music it makes an interesting combination, like a french hotdog crusted with homemade lingonberry jam."
'Graces Came With Malice will be available in April and will come via The Sign Records. Stay tuned for more.
Check out what the CRITICS have to say about "Sound Of Life Slipping Away":
Review name, 5/5 (SE)
Buy the album:
Bandcamp
Freighttrain