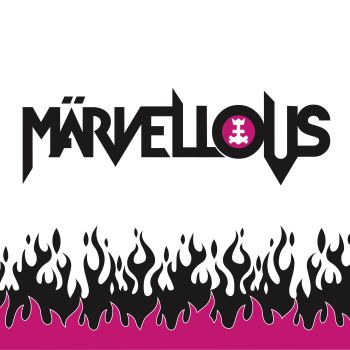 MÄRVEL - Märvellous
Released 2020-01-24
Tracks: Amaze-O // Marvellous // Public School 75 // A Taste of Platinum

Produced and recorded by Märvel in Solskensfabriken. Mixed by Robert Pehrsson in Studio Humbucker and mastered by Magnus Lindberg,
From the press release:
You know the story… and if you don't, here it comes! Marvel formed in 2002 when three guys from Åtvidaberg enjoyed rocking and rolling more than studying during their high school exchange year in Colorado -- but have you ever heard the songs from our debut EP? No! Not until today you haven't! We got picked up by the US indie label New York Powerhitters and recorded Marvellous in the U.S. Before the release of the 4-track EP, we parted ways with the label and moved back to Sweden. The label promised that copies would be sent to us and that we also would get the master tapes. That never happened and we never heard from the label again. For years we tried to get a hold of the tapes to be able to re-release the songs or at least get a listening copy. Sadly, after being acquired and moved multiple times by different labels (and according to hearsay) the tapes were destroyed in the Universal Studios fire in 2008.
Even though we re-recorded "A Taste of Platinum" for our debut album Five Smell City in 2005, we've always felt that it was a shame that people never got to hear the songs that kicked off our career. So to celebrate our roots we've re-recorded all of the songs! We haven't tried to make it sound like the originals; instead, we wanted to play, produce and record the songs as well as we possibly could. It was Marvellous -- now it's Märvellous -- and we hope you löve it!
Check out what the CRITICS have to say about "Märvellous":
Hard rock heavy metal, 80/100 (IT)
Rock out Stand out, 9/10 (UK)
Sleeping Village (AU)
Games, Brrraaains & A Head-Banging Life, 7/10 (UK)
Maximum Volume Music, 9/10 (UK)
The Rock pit (AU)
Markus Heavy Music Blog (SE)
Metal Rules, 3/5 (UK)
Power Metal (DE)
Buy the album:
Bandcamp
Freighttrain