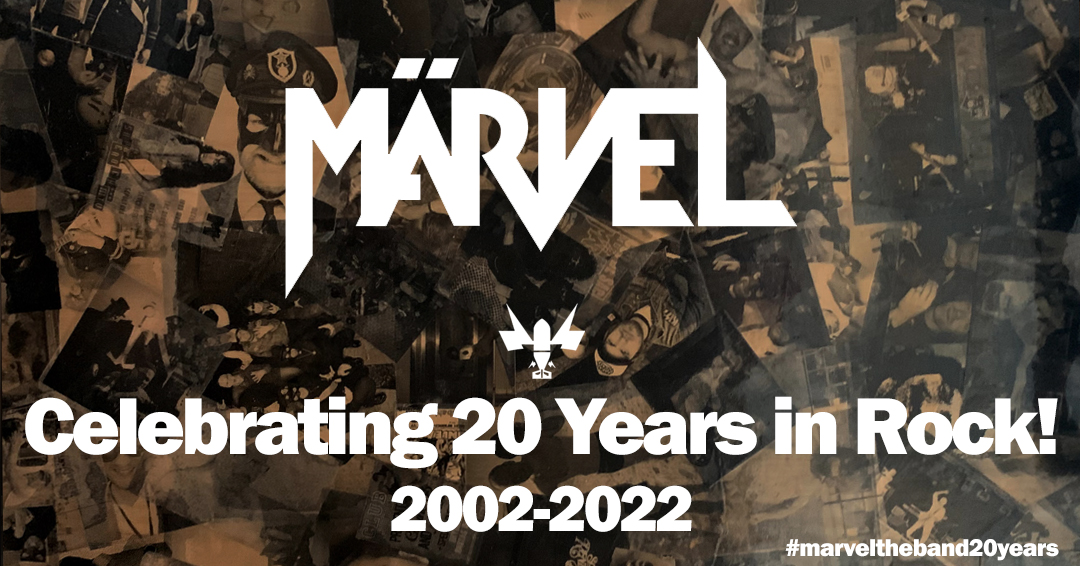 Hello people of rock!
We hope 2022 has treated you well this far, it is a big one for Märvel. 2022 we celebrate 20 years as a band! Incredible. We have never felt better, and are very excited about all the things planned for this year.
We wanted to take this opportunity to share some of the stuff we have brewing for you, and we hope you'll feel as excited as we do.
Later in January we will release a new single, and as you might've guessed, these singles will lead up to a new album release. The album is scheduled for an early spring release, and we can't wait for you to hear it! The release date will be revealed soon. We will also celebrate the album with a big release party in Linköping, so keep a lookout for that.
One album however, is not enough during such an epic year, so in the fall you can also look forward to a compilation album release to commemorate our 20 years in business. It will sum up our career this far and be filled with both hits and rare and hard-to-get songs. There will even be a couple of new songs on there!
We also want to come out and play live for you again! For a late summer date we are currently planning a two-day Märvel festival in Linköping, to celebrate our 20 years, but given the state of the pandemic, it is hard to say too much yet. BUT, we are planning for gigs all through the year, and will release dates as soon as they are confirmed.
Apart from the above, we will do a deep dive into the extensive vaults of live videos, photos and music demos that we've collected throughout the years, and plan to take you all on a one year long trip down memory lane on social media. We will post behind the scenes stuff from albums, demos, tour diaries and much more from our 20 years as a band!
We hope you will follow us through the year! We'd love to get your memories from gigs, album releases and anything else, so make sure to share in comments, or post on your own social media, throughout the year as well! Use the hashtag #marveltheband20years
Stay Safe and Flame On!
/King, Vicar, Burgher