MÄRVEL are the swedish BARONS of HIGH ENERGY ROCK 'N' ROLL! Märvel's explosive live performances have earned the band a loyal ärmy of fans all over the world - the Märvel Army! Märvel is The Vicar (drums), The King (guitars, vocals) and The Burgher (bass).
MÄRVEL is always ONLINE! Check out the latest INSTAGRAM posts by @marveltheband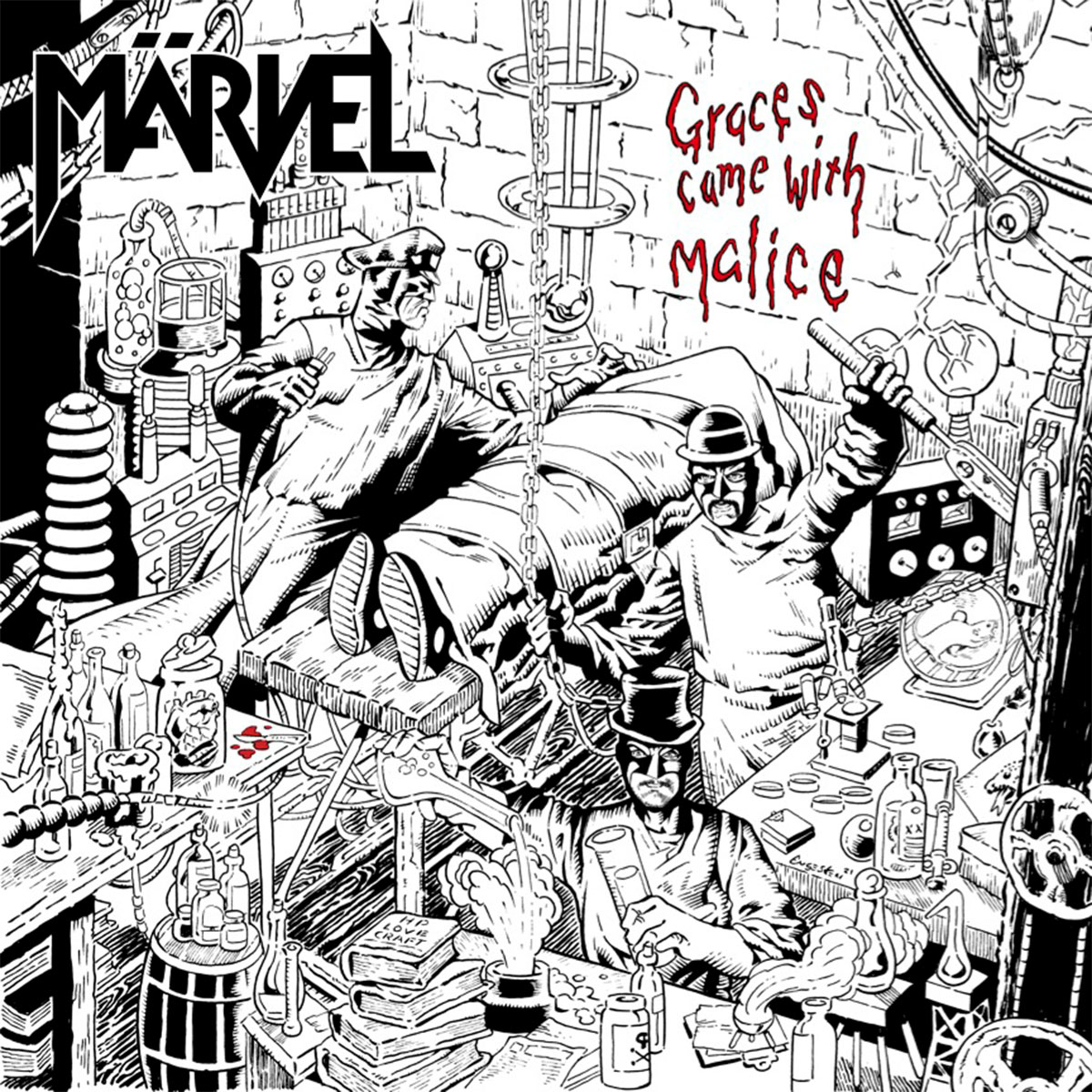 MÄRVEL - Graces Came With Malice
Released 2022-04-22
Tracks: Slasher With a Broken Heart // The Disaster // Sound of Life Slipping Away // Great Man // Graces Came With Malice // One Common Enemy // Sorry State of Affairs // Lizard's Tongue // Hot Nite in Dallas // Queen for a Day

Produced and recorded by MÄRVEL at studio Solskensfabriken, mixed by Robert "Humbucker" Pehrsson and mastered by Magnus Lindberg. Cover art by Mats Engesten.
From the press release:
Twenty grand years have passed since Märvel entered the world of high energy rock 'n' roll. Since their formation in 2002, the masked power trio from Sweden have made a name for themselves with their memorable songs and intense shows. 8 studio albums, countless gigs and tours, collaborations with scene icons such as The Hellacopter's Strings and Dregen, and dedicated fan clubs all over the world have all helped put Märvel on the radar. Now it's time for one of the longest lasting Scandinavian rock acts to release their 9th full length studio album. Join Märvel, and the party, as they celebrate a double decade of rock! "Graces Came With Malice" is the 9th studio album by Sweden's Barons of High Energy Rock'n'Roll. Released as part of the bands' 20th year anniversary, the new material is stronger than ever. Moving from high octane, quintessential Märvel tracks, to more laid back classic rock hits, "Graces Came With Malice" is a 10 track collection of Scandinavian rock music at its finest. Super-catchy songwriting, stand out layered vocals, electrifying riffs and piercing melodies all contribute to an explosive eclectic rock extravaganza.Märvel comments:"It feels good to know that after 20 years as a band, we have created our strongest album to date. After 9 albums of high energy rock 'n' roll and more than 9000 hours inside our latex masks we know what Märvel is about. We're aging like a fine wine yet we're as vital as a pack of lovesick tigers. We don't compromise with our songs or on the production quality. Märvel grows better and stronger for each album and by no means are we ready to put our hats on the hat rack!""Graces Came With Malice" is recorded and produced by Märvel in studio Solskensfabriken. The album is mixed by Robert Pehrsson in Studio Humbucker, and mastered by Magnus Lindberg. Artwork for the album and singles by Mats Engesten. "Graces Came With Malice" is released on The Sign Records on April 22. The album is released on vinyl, CD, and on all streaming platforms.
Check out what the CRITICS have to say about "Graces Came With Malice":
Musipedia, 8/10 (UK)
CoreandCO, 7,5/10 (FR)
Rock Garage, 8/10 (DE)
Rock Hard, 7,5/10 (DE)
Storm Bringer, 4/5 (AT)
Metal Hammer, 4/5 (DE)
Metal Head, 7/10 (IT)
Power Metal, 7,5/10 (DE)
Devolution Magazine, 5/5 (UK)
Rock And Roll Army, 4.1/5 (ES)
THE MALOIK ROCK BLOG, 5/5 (SE)
RPM Online, 5/5 (UK)
Markus Heavy Music Blog, 8/10 (SE)
Metal Temple, 7/10 (US)
Velvet Thunder, 5/5 (UK)
Rockway, 5/5 (GR)
Rock Castle Franken, 7.5/10 (DE)
Giornale Metal, 7/10 (IT)
Lords of Metal, 8/10 (NL)
Saitenkult, 7.25/10 (DE)
Classic Rock, 7/10 (UK)
Buy the album:
Bandcamp
Freighttrain
For more Märvel photos, join the digital revolution at Facebook!
Märvel has been an active band since 2002 and consists of The King (guitars and vocals), The Burgher (Bass) and The Vicar (Drums). Read the full story to find out how three young men from Åtvidaberg found their true calling in life.

Also, check out Märvel on Wikipedia for additional info!
The bäck catalogue

Turn the Page
2022

Great Man
2022

Sound Of Life Slipping Away
2022

Lizard's Tongue
2021

One Common Enemy
2021

Slasher with a Broken Heart
2021

Public School 75
2019

Marvellous
2019

All for the Glory
2019

Cant Shake Loose
2019

Powertrip
2019

Rock and Roll, Hoochie Koo
2019

Sultans of Swing
2018

Keep Pushin
2018

Angela
2017

All Over the News
2017

Goodluck Sandy
2017

L.O.V.E. Machine
2015

Motherfucker
2015

The Hills Have Eyes
2015

Hadal Zone Express
2014

Danish Rush 6581
2014

Remember
2014

Metalhead
2012

Beaten Path
2010

A Pyrrhic Victory
2009

Thunderblood Heart
2007

I Wanna Know You
2006

Goddess on the Loose
2005

Payin' Our Dues: A Tribute To The Hellacopters
2019

Rock Revival
2015

High Energy Halloween
2011

Buzz! (The Best Of The Year... So Far!)
2011

Festival Anthems
2011

Classic Rock - Discover Download
2011

Carbon 14 - Scandinavian Meltdown
2007

Liberating Music
2006

Indie Sampler v.6
2006

Closeup - Soundcheck 74
2005
The Barons of High Energy Rock 'n' Roll are resting - there are no scheduled gigs.
To book Märvel, contact us directly at info@marvel.nu
Follow MÄRVEL on social media
Are you a rock soldier? A pirate or a pussy? Or simply a rebel without a cause? This is your chance to pull your straw to the stack! MÄRVEL is looking for mercenaries of ROCK, willing to help out in spreading our gospel of ROCK! To ensure a steady supply of objectively marvellous music, the time has come to step up!
Download the pdf template
Print it out in any size you want, the bigger the better
Choose the stencil or the cutout
Decorate your home town like there's no tomorrow
Take photos of your work
Post them on Märvelbook
Busy bees posting creative contributions will be decorated. Bombs away!